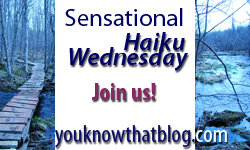 This week's theme:
Vision
"In my way,
standing in my way.
would you move?
I'm going to lose!
More a door than a window
blocking the TV.
Step aside,
Mom, please scoot over
I could die!"
Smirking, slow, I move.
I am that kind of mommy.
"What? Oh. I'm sorry."

hee hee hee. What kind of mom does that to their kid? Oh, I know... ME!