When something happens that is so ... unspeakable.
Bringing tears to your eyes and a hallow ache inside your chest
I cry. I rage. I have to process it over and over.
Friday morning, while I sat in an assembly with 500 children and cheerfully sang Christmas Carols, a tragedy was unfolding in Newtown, Connecticut.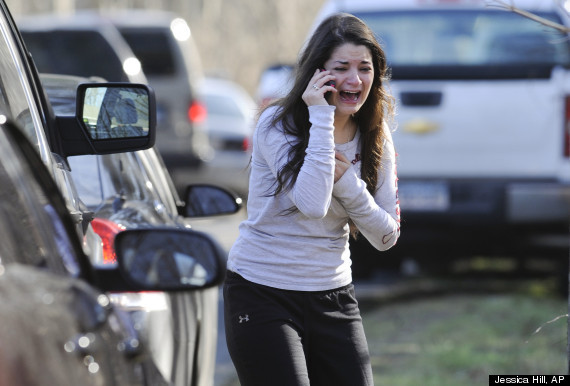 A woman waits to hear about her sister, a teacher, following a shooting at the Sandy Hook Elementary School in Newtown, Conn.
I am horrified that someone could open fire inside a classroom full of children.
For the last two days I tried to form a coherent thought to post... each time my eyes filled with tears at the overwhelming loss that those families are experiencing.
I don't personally know any of those families who lost loved ones.
I can't imagine the heartache they are experiencing.
I do know that those are children who (like my own 7 and 9 year olds) were making Christmas crafts with glitter and handprints with their teachers last week, and were excitedly anticipating Christmas morning.
Perhaps their parents had bought them Christmas gifts. Perhaps their parents had plans to visit grandparents or go on a long-awaited family vacation.
Now there are presents that will go unopened.
Trips that will be replaced by memorial services.
Bedrooms that now have empty beds,
and parents who are trying to wake up from the nightmare.
I hurt for them. I feel sad and angry and scared and a little bit guilty that I can hug my children 20 times a day (which I have been since last Friday)
I made the following memorial for those who lost their lives that day.
6 and 7-year-olds. Babies.
If you are like me, you want to help. You want to bring them a casserole and put your arms around them and cry with them over their horrible loss. To be a support in some way.
The Newtown Patch (their newsletter) has some ways you can help.
Blogger Kiran from Masala Chica will be participating in 26 acts of kindness, which I am participating in as well. I will also pray.
I can pray for healing and comfort and answers to impossible questions. I can pray for people who know them and love them to surround them with support and love. I can pray that they feel comforted and not harassed by the national attention.
I will continue to pray for those who are facing a Christmas without a beloved child to exclaim with delight on Christmas morning. For the birthdays and holidays that are still to come that will feel hollow for them.
Tomorrow, I will be joining the blogging community in a day of silence in remembrance of those who were lost. Please join me in spending time with those you love and saying a prayer for the families and victims from Sandy Hook Elementary.
What do you think? What more can we do?